The year was 1964, Ed and Margie Imo, a young couple with dreams of buying a home for the family, just opened a pizza parlor in The Hill neighborhood. It wasn't too long before their name and square-cut pies would become synonymous with St. Louis traditions and pizza history.
Devoted Catholics, the Imo family would wait until 11:30 pm every Friday to order a meat-topped pizza from one of the many Italian restaurants near their home. After years of picking up their pizzas after midnight, they asked themselves, "Wouldn't it be nice if someone would deliver the pizza to us?" Their thought would soon revolutionize the pizza industry.
An Idea Sparks a Phenomenon
Knowing they had something special, the couple took five years to save up $1,500 and opened their first parlor on the corner of Thurman and Shaw. With no retail background, and no formal culinary training, the couple was ignited by their entrepreneurial spirit and determination.
In the beginning, their first kitchen consisted of a used oven, two refrigerators, and a stove that they purchased for $75. Ed continued to work as a tile setter slicing squares of linoleum by day and pizza by night. Margie answered the phones, prepped salads into cups, and worked the cash register - an old tackle box they repurposed. To keep up with all the orders, they enlisted Margie's brother to make all the deliveries. Lastly, they hired a chef from the neighborhood to cook the pizzas who, unbeknownst to them, would incorporate an ingredient that would be forever ingrained into the identity of their brand.
A Provel-ution!
In place of the Mozzarella cheese traditionally layered on South St. Louis style pizza, their new chef chose to use Provel® cheese. It was a hot success! Soon they were pumping out so many pizzas that they needed to find more of the cheesy ingredient.
Unable to find a reliable distributor, word quickly got around town that they were looking. One day a gentleman named Mr. John showed up to their parlor with a block of Provel® cheese in the trunk of his car. Unable to pay him for the first block, he gave them the Provel® cheese on loan the first week. The following week they paid him back, and Mr. John returned every week for the next three years until his death.
Their demand for Provel® cheese rapidly grew, and they needed to find a steady supply. Knowing Costa Grocery held the only rights to distribute Provel® cheese in St. Louis, Ed Imo offered to buy the business. The owner agreed to sell, and their cheesy dilemma was solved.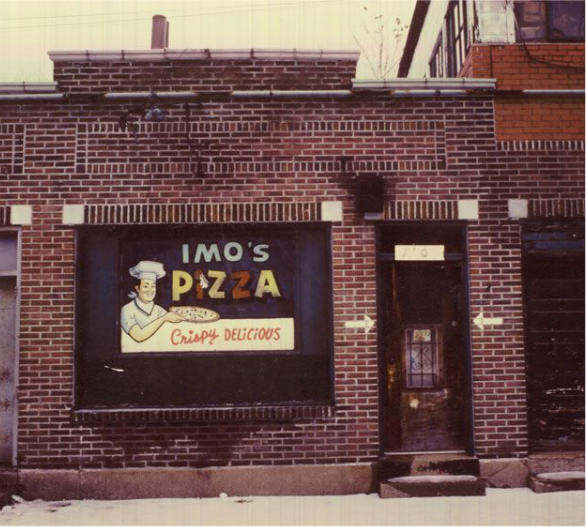 Throughout the Years
Eight months into opening their first parlor, Ed and Margie's friends asked if they could open a second location for them. That was only the beginning. Soon the couple had stores everywhere, reaching 30 parlors across the St. Louis region by 1985. At that point the family decided to open the brand up to franchising.
As time went on, their menu expanded to include pasta, appetizers, sandwiches, and desserts. Their product lineup was not the only thing to grow over the years; their fanbase reached a new level. Soon the family was packaging and shipping their St. Louis style pizza, Toasted Ravioli, and Provel Bites across the country to their loyal customers.
What's Next
In 2016, the company relocated its headquarters and franchise operation to a new 72,000-square-foot warehouse, and 10,000-square-foot office in downtown St. Louis. Imo's Pizza is poised to expand our brand's footprint across the Midwest in the coming years.
With nearly 100 franchise locations and countless items in retail outlets across Missouri, Illinois, and Kansas, Imo's Pizza continues to grow beyond Ed and Margie's wildest dreams. From popularizing delivery to creating nationwide recognition for St. Louis Style Pizza following, their philosophy of making every customer feel comfortable and welcome has propelled the brand from a single pizza parlor into a tradition; making us The Square Beyond Compare®!